Armani T-Shirt
Just what you've been waiting for! A t-shirt pre-worn by Simon Cowell!
Wrap yourself up in the soft cotton and breathe in the totally male scent of He Who Controls Us All. We promise you'll never want to leave your bed!
Color May Vary
While Supplies Last
---
---
Rock 'em Sock 'em Robots!
An American Idol Twist on an American classic!!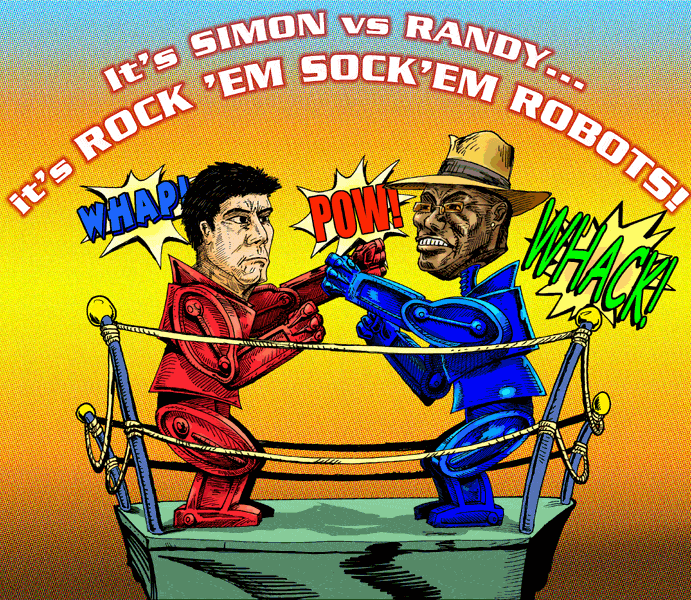 Not a Playstation gamer? Don't worry, we haven't forgotten you! We've brought back an old, low-tech favorite with a Simon-esque twist: It's ROCK 'EM SOCK 'EM SIMON!
Any mention of Simon balling...his fists is just TOO primal, and our staff certainly got a thrill out of the prospect of him taking on Randy Jackson on the set of American Idol. Now YOU can stage the ULTIMATE would-be showdown in the privacy of your own bedroom!
POW!
GO GET HIM SIMON!
Referee Paula doll sold separately
Special thanks to my brother for the above artwork. However, he is now officially on my shit list for refusing to draw Referee Paula. BOO!! HISS!!
---
---
GLINT!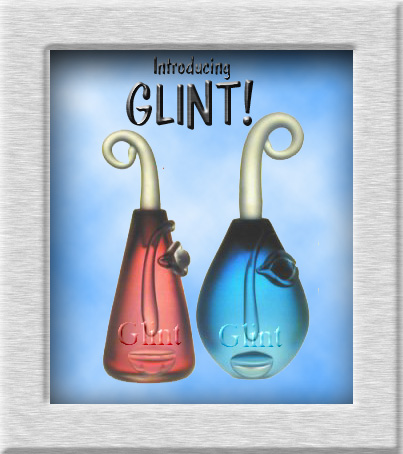 Nicole Kidman has it...Kelly Ripa has it...
Now YOU can have it too!
Introducing...Glint!
Specially formulated to maximum potency, just a drop of Glint! in each eye will have Simon Cowell falling at your feet! But beware; being this sexy has its drawbacks too...
Oh, who are kidding? Just use a condom, OK?
As seen on "Live with Regis and Kelly". Condoms sold separately. Offer not available to Halle Berry, who frankly has enough weapons in her arsenal and still couldn't manage to catch him - we can't help you!
---
---
Clueless - The Game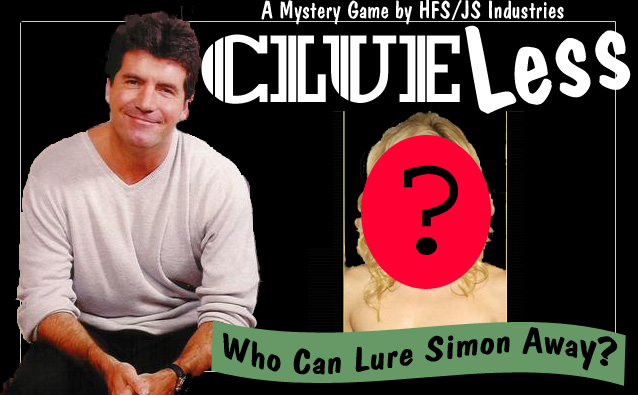 Who lured Simon away from the, um, enigmatic Terri Seymour? Was it HFS at the dance club with her stunning rack? Or was it Paula Abdul in the bathroom with a baby on the way?
Find out in the HFS/JS Industries twist on the classic game!
| | | |
| --- | --- | --- |
| Suspects | Locations | Weapons |
| HFS | Bedroom | Trust Fund |
| Lorie | AI Dressing Room | Rapier Wit |
| Paula | Bathroom | Glint! Sold Separately |
| Lauren | Dream Pool Sold Separately | Pregnancy Test |
| Juliet | A-List Club | Sexual Prowess |
| Lia | Board Room | Stunning Physique |
The combinations are endless, but the result is the same - TERRI IS OUTTA THERE!
Play to WIN girls!!
---
---
Simon Sez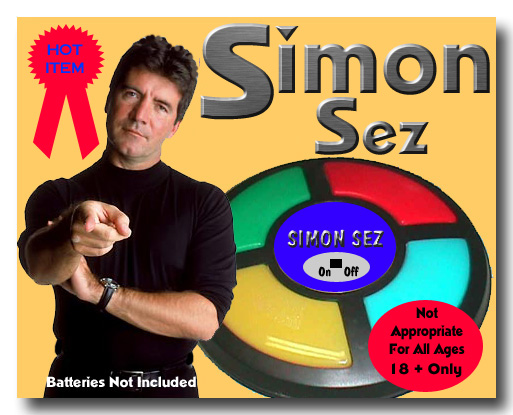 It's a cliche', we know, but how could we omit it? It's Simon Sez!! This HFS/JS Industries toy may LOOK like the classic game, but this is NOT for the entire family!
GAME PLAY:
Each time the appliance lights up, you will hear Simon's singularly sexy voice giving you an explicit command. Follow his instructions and press the button to restart the process - you'll get the original instructions PLUS something new! As the game continues, instructions get more detailed and are given faster, until you have no choice but to succumb to the pleasure!
Each time you play Simon Sez your instructions will be different. Commands are randomly generated within tiers of intensity for maximum satisfaction.
Be careful with this one - it's HIGHLY ADDICTIVE! You might never leave home again!
Batteries, Vibrator, Lubricant, and other Paraphernalia not included.