Baby Simon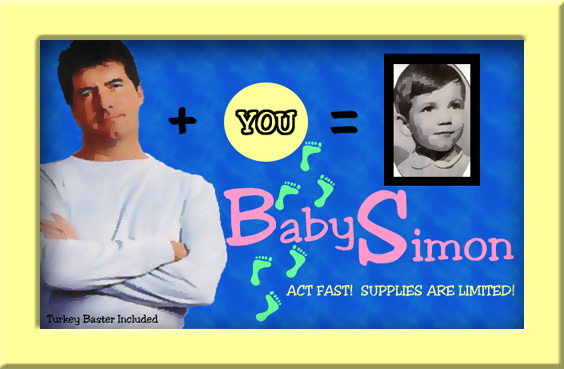 Thanks to our staff in the Barbados office (you didn't think we would let him be gone THAT long without supervision, do you?) we can now offer you your very own Baby Simon!!
We have creatively collected several samples of Simon's DNA for your use in artificial insemination. The child's gender cannot be specified, but we're sure you couldn't care less.
Baby Simon comes with the following accessories:
One vial Simon Cryopreserved Sperm (frozen and stored at -196 C)
Certificate of Authenticity
Fertility Monitoring Kit
One Turkey Baster (baster has a collar providing two comfortable grip options)
Pre-filled Paternity Suit Documents and Complimentary Consultation with a Family Law Attorney
One appearance on the Jerry Springer Show (why send you a paternity test when they'll do it for free on the air?)
One Fireproof Santa Suit
One t-shirt for the baby that reads: "Simon Cowell Is My Daddy And All I Got Was This Lousy T-shirt"
One baby bib that reads: "I Love My Daddy"

ACT FAST! SUPPLIES ARE EXTREMELY LIMITED!
We wish we had a larger inventory of this item, but Juliet and HFS were very busy over the holidays and could not personally oversee production.

Mishandling of your Baby Simon may result in this: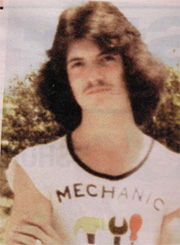 You can't say we didn't warn you!
---
---
Marry Me Simon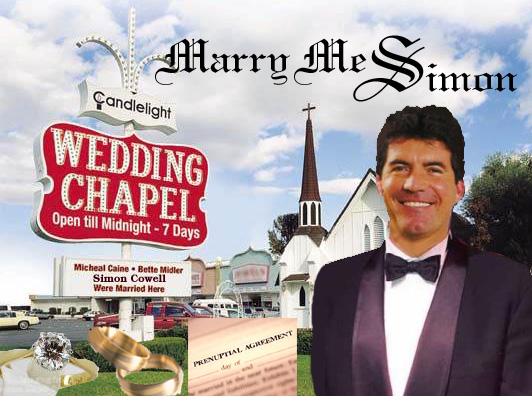 Wedding Bells will ring for you and Marry Me Simon!

Marry Me Simon is already dressed in his tuxedo and is just waiting to take you down the aisle!

Accessories Include:
Two-Carat Diamond Engagement Ring and His & Hers Gold Wedding Bands
State of Nevada Marriage Certificate, Pre-Signed by Marry Me Simon
Prenuptial Agreement (so you can keep YOUR assets, of course) AS AN ADDED BONUS, Contract Includes the J-Lo Addendum: If Marry Me Simon cheats on you, he'll hand over all his money AND his penis in a box.
Three Week All Expenses Paid Honeymoon To Your Destination Of Choice.